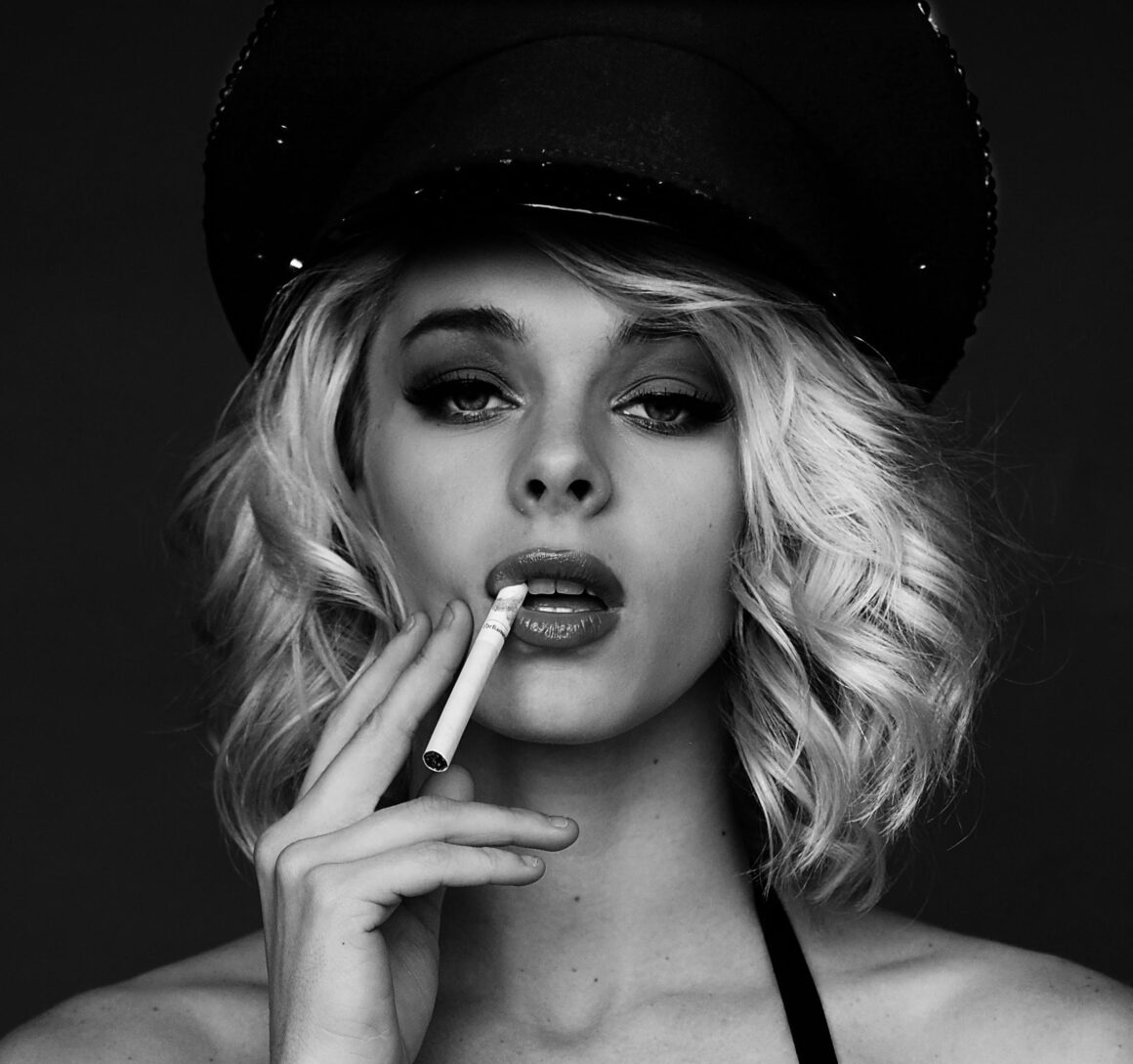 Burlesque and the L.A nightlife scene – Embracing your sexuality and femininity
I am EXTREMELY excited about this week's guest blogger – A dear friend of mine, who I met on a job in LA two years ago and immediately clicked with. She's extremely sarcastic and curious and I am constantly inspired by her creativity (seriously, check out her IG here I'm drooling). I can't think of anyone who'd be better at talking about burlesque, nightlife, and embracing femininity and sexuality than Skylar.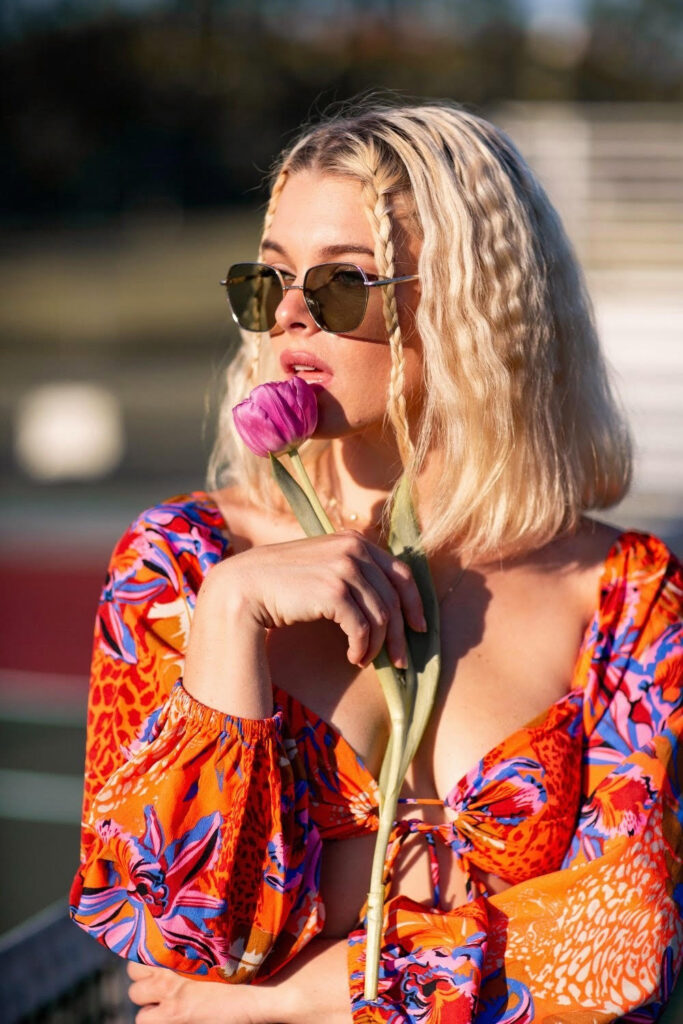 Hii followers of Love Notes to LA, I'm Skylar and I've been living in Los Angeles for 9 years!
I moved here from the smallest town in Louisiana. I know you're dying to ask but, no I'm not from New Orleans, LA quite the opposite. I'm from Ruston, a very small, religious, conservative town. Shocker- I know!
I have actually been dancing since I was about 10 years old. I remember I transferred to a new school and I cried and told my mom that "All the cool girls take dance classes and I have to!", so she enrolled me.
I was trained in ballet, tap, jazz, hip-hop, and contemporary. When I was 15, I started high school and realized they had a dance line, my previous school only had a cheerleading team, which I tried out and then quit later. Turns out I'm not much into screaming/excitement/ cheesy smiling; not surprising if you know me. I did one year of dance competitions and later joined the high school dance line.
I went from being the most insecure at my dance studio to the most advanced dancer on my school team, which was a big boost to my ego.
From quitting dance to being a professional burlesque dancer
I think a part of me has always known there was a power that came with dancing and moving my body, but I did not know how to fully embrace that power or what to do with it.
A very distinct memory I have carried with me for years was the day our dance team was supposed to perform a hip-hop routine in front of our school:
During rehearsal my dance coach stopped us and pulled me aside to scold me for "moving to sexy".
MOVING TO SEXY?! We were all performing the same routine, how was I doing it wrong? I couldn't believe I was actually getting in trouble for the way my body reacted to the song and completed the choreography. A few months later, I ended up quitting the dance team after having multiple run ins with the coach and I lost my interest in dance completely.
Cut to—"Burlesque the movie" with Christina Aguilera and Cher coming out. This movie, as cliché as it sounds, changed my life and ignited my love for dance again. After seeing this movie and seeing that there was a style of dance that the whole purpose was to BE sexy, suddenly lit a fire inside me.
I knew that's what I wanted to do.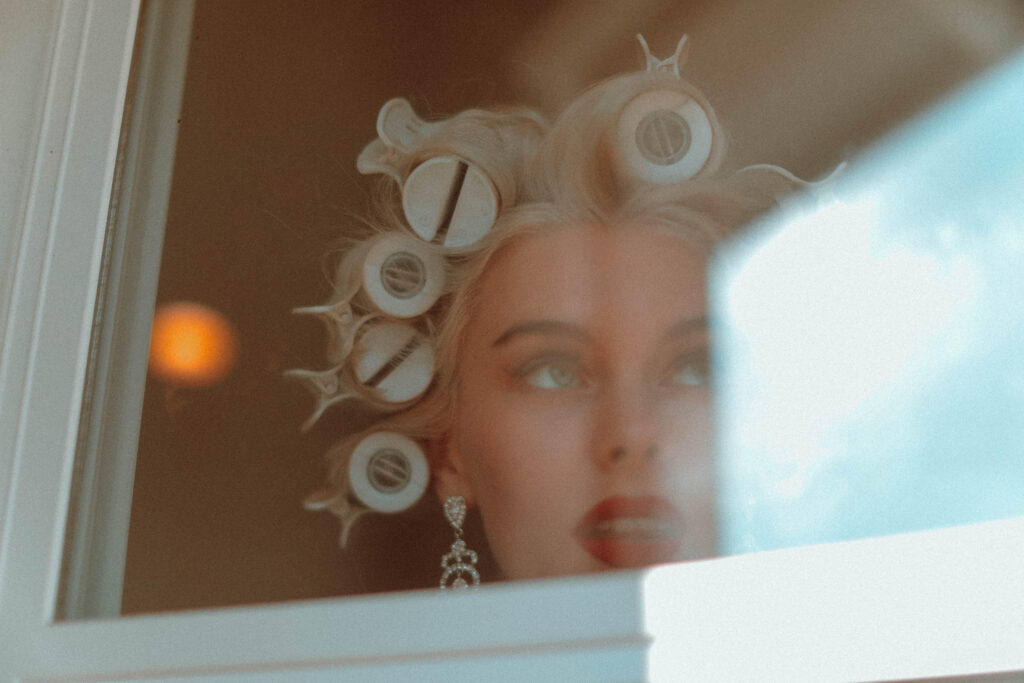 So why did you move to LA?
Long story short, I didn't move to LA to do burlesque, I went to school for my other love, fashion. I got a job in the fashion industry and hated it. It was truly fate that I stumbled into the burlesque scene.
I started taking burlesque classes at IDA Hollywood and loved it. I took workshops and trained with a rock n' roll burlesque troupe called Hells Belles Burlesque. I would perform in their student showcases before they invited me to do a few of their headlining shows, sometimes sneaking in the backstage door to perform and leave because I was underage.
The first burlesque job
My first big job in LA I auditioned as burlesque dancer that would be made into a hologram for a casino installment in China. My agents called me to tell I had booked the main role and I needed to fly back from India immediately (I was having a quarter life crisis at the time and left to travel for the first time on my own).
A few days later, my agent called back and told me someone else had booked the main role, but I was still to be just as featured. I bitterly asked who it was, and he told me it was Dita Von Teese. I was SHOCKED.
I was more than happy to lose my role to the QUEEN of burlesque herself! I actually talked to her for a couple minutes and showed her some videos of me dancing that would probably make me cringe now, HA!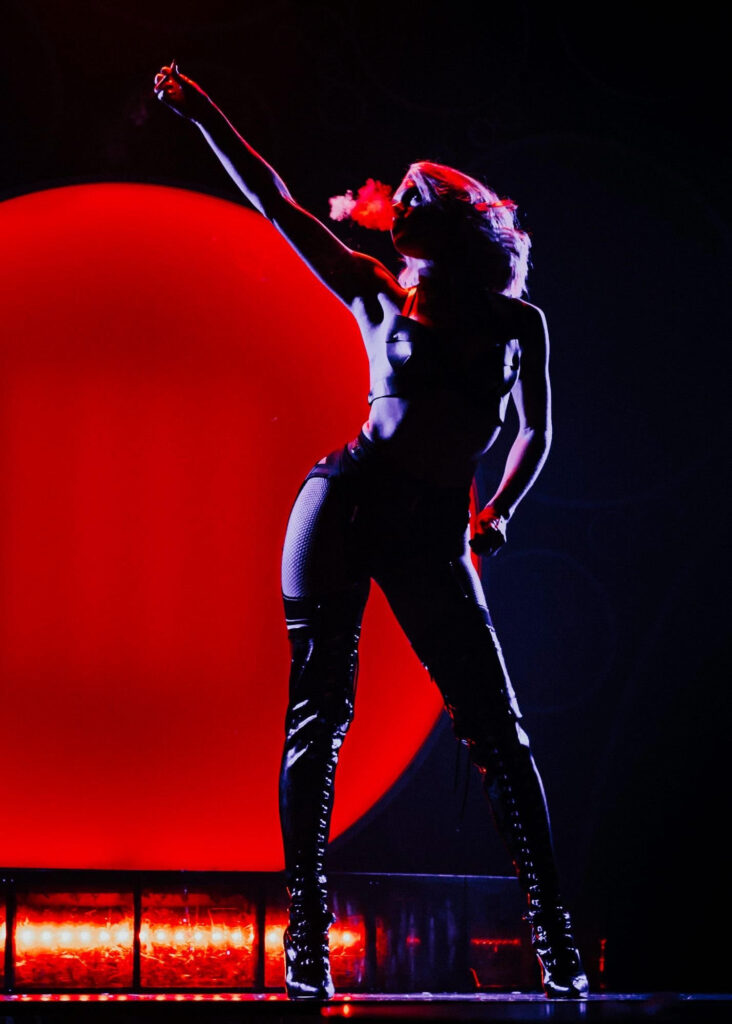 The LA auditions
After that job, I started doing more dance auditions. I responded to a post on LA Casting looking for burlesque dancers 3x a week at a night club called Bootsy Bellows.
Just a reminder- I had maybe done a hand full of auditions in my life, so needless to say I was incredibly nervous and was in desperate need of a job at the time. Luckily, I made it through the auditions and secured a job allowing me to get my own place in Hollywood and that's how I got started in the LA Nightlife scene.
L.A's nightlife in general
LA is known for its nightlife just as much as entertainment. Hence why they go hand in hand. You cannot walk into a club without seeing some sort of entertainer prancing around in a costume. I know because I work at most of these places.
I won't sugar coat it though, LA is also known for underpaying its performers, but I'm hoping after this pandemic LA will really understand and start to appreciate the memorable moments that performers provide to venues, events, and parties that make this city go round.
What is it that burlesque offers that other styles don't?
Burlesque—in my opinion— is the most inclusive dance style yet. There is no "right" body type, age, color, look, or gender.
What does burlesque offer that other styles don't—I'd say a space of inclusivity, creativity, and confidence.
This dance style is all about feeling SO confident in your own skin that you can walk on that stage and show the world, whilst literally only wearing pasties and a thong. It takes courage, especially on your "off" days.
Lastly, it's a style that offers you creative freedom. I have had complete control over my entire career. From bookings, costumes, acts, music,…everything! No one is going to tell you what or how to do it. It's up to you to sell yourself and skills to advance in this profession.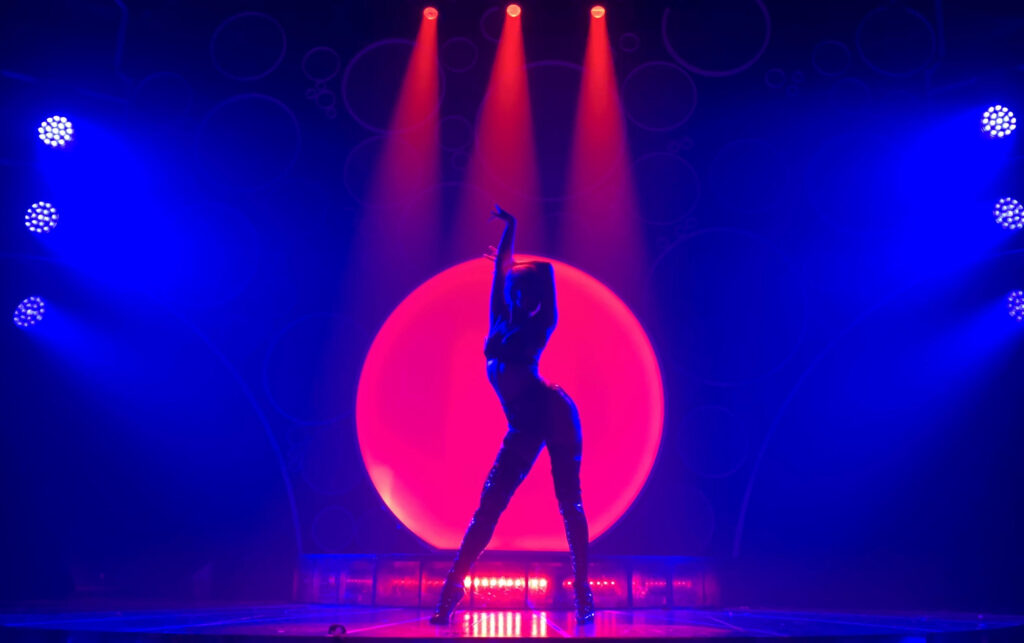 What does a typical week in your life look like?
Here's the thing—because I am freelance my work week is forever changing. Right before the pandemic I had two main companies that hired me every weekend, which is pretty great! Consistent good paying jobs can be hard to find in LA.
Monday- Wednesday are technically my "off days" but those were usually sprinkled with the occasional one-off job/show, commercial auditions, yoga/pilates, and doing my best to maintain a personal life.
Thursday- Sunday are my busy days with Friday & Saturday usually having two, if not three jobs in the night. I was always trying to squeeze in as many jobs as I could because I chose a career that is so unpredictable, and you just never know what could happen.
*cough, cough Covid-19 lockdowns*
How do you book jobs?
For the most part, I'd say networking is key in LA. I've booked jobs every which way possible, but once you get into a show it's best to meet the dancers and producers and create those connections.
The LA burlesque scene is actually quite small, so it wasn't long before I felt like I knew most of the dancers. I've booked most of my jobs on recommendations, social media presence, or they just saw me perform one night.
A piece of advice I could give is—if you see a show that you like JUST REACH OUT. It doesn't hurt to express your interest in something and make your name known.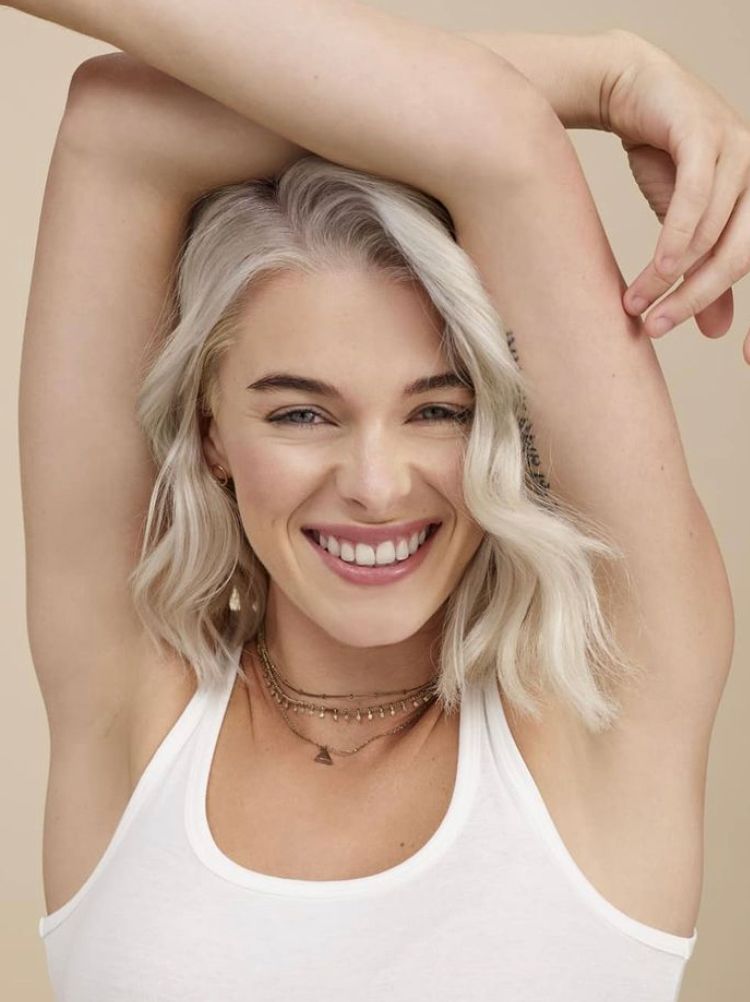 What is required of you to succeed within your industry?
As I mentioned before if you want to do well, be ready to socialize. Be kind to people and easy to work with and they will recommend you to others!
Have some good footage and pictures to show people what you are capable of– especially in this day and age of social media.
Most importantly, have something about you that makes people think they have to have you in their show! An act, a costume, a presence… show a part of you that no one else could replicate.
Your best advice on networking in the nightlife scene?
So I actually love going out and I love even more that I have found a job that pays me to go out to perform! But being out in the nightlife scene can be hard to navigate if you don't have a strong head on your shoulders.
There can be a lot of drinking, drugs, and broken promises so I don't get my hopes up with people in nightlife until I have a job proposal in writing.
Take what people say with a grain of salt and then follow up in the daytime. Set boundaries, keep things professional (for the most part), and be weary of blurred lines with "nightlife friends" and an actual future employer.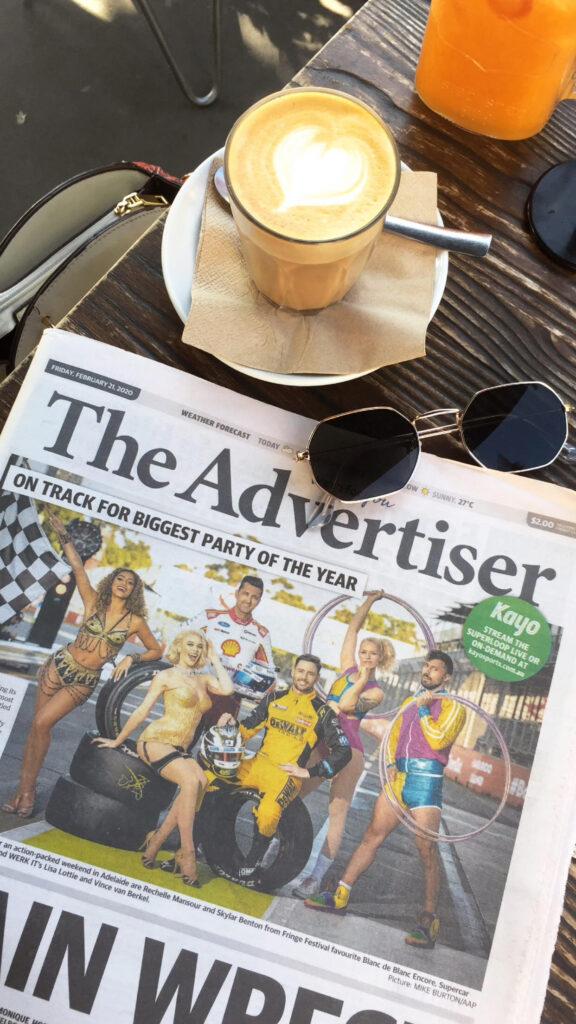 How the HECK did you end up in Australia for months and months? Is it normal to do contracts abroad?
This is actually a story about being in the right place at the right time. Long story short—someone saw me perform at a weekly show I was doing in LA and asked if I'd like to perform in Miami.
As I mentioned above, I take things lightly, but it was to my surprise they actually did offer me a guest spot for the show! Whilst there I met another burlesque dancer who was performing that night. She had bright red hair just like I used to, so we had an unspoken bond in my mind.
We immediately clicked but only really hung out that one night. Nine months down the road she actually ended up referring me for the same show she was in, Blanc de Blanc! in Australia. I sent in my stuff and the producer ended up putting me in the new spin-off show, Blanc de Blanc Encore! And that's the short story.
I wouldn't call it a "normal" situation to travel abroad on contracts but personally I've made it priority to have my love of traveling go hand in hand with my work. There are shows, especially in Europe, that you can audition to be a part of as a burlesque dancer; but for the most part a lot of performers I know just stay in their home city and guest occasionally in other cities.
What do you say to performers who're afraid of being uncomfortable in front of men?
Ohh man.. literally. The men are always going to be there. The good, well behaved ones and the drunk egotistical ones. Do I always feel safe? Absolutely not. I won't lie I slapped a guy across the face once and then escorted him out, all during my solo. Luckily people thought it was part of the act but I was shaking with anger.
A LOT, if not most venues, have security but do not designate it to the performers which is appalling. I like to think over the years I've learned how to handle men differently, but it all depends on the situation.
Usually if there is an incident with a man grabbing at me I tell management and the security that I would like him removed from the venue. It can be difficult because burlesque is very audience interactive, so it's always a good idea to make management aware of what you need safety wise.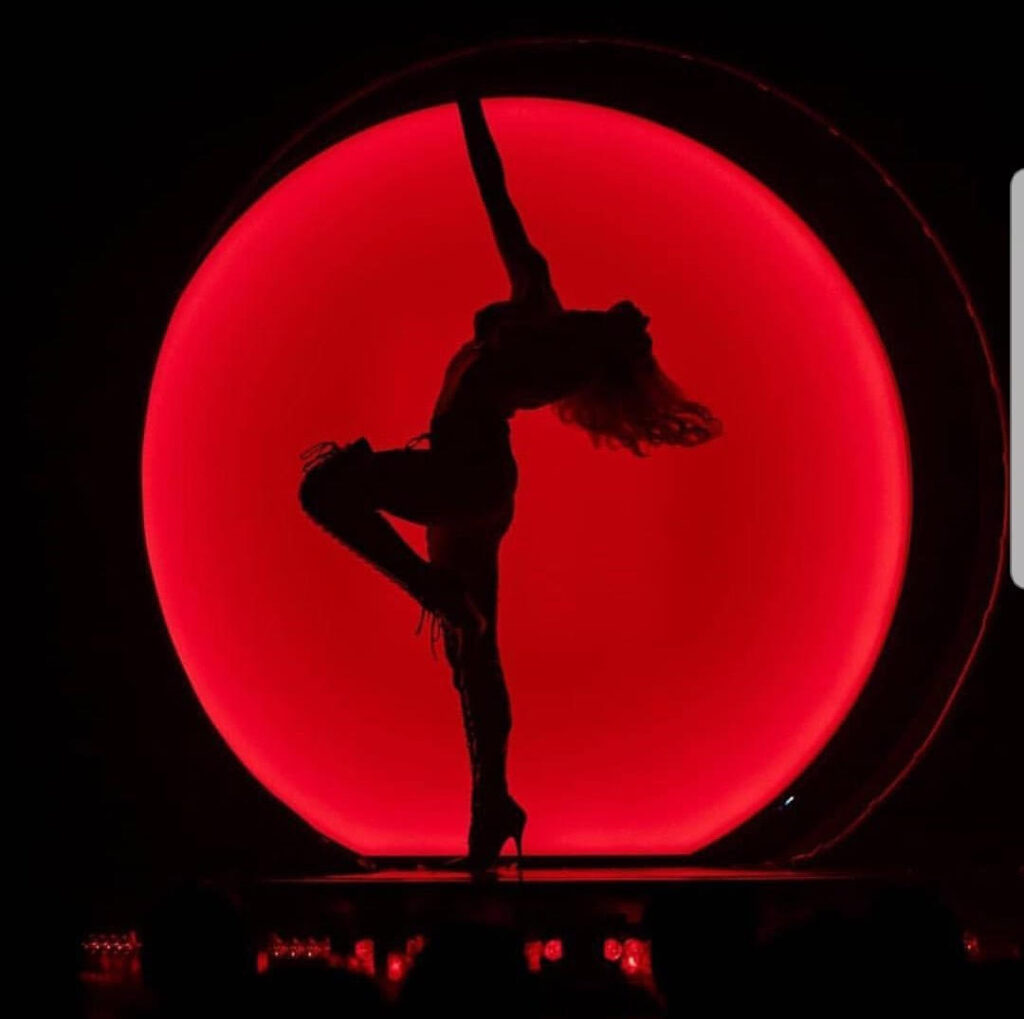 What is working in the L.A nightlife like in general? I mean this city can be pretty f*cking crazy even in the daytime, am I right.
Honestly—I love it! I average working about 4 hours a day, that's if I only work one night club. I'm usually at a job around 9-10pm and done by 1:30 and then I have the entire day to do whatever I want.
You learn to love the hustle in LA and sometimes you really crave it. I remember pre-covid I would panic if I had two days off, I wouldn't know what to do with myself or how to fill my time.
But like I mentioned before, I create my own schedule. It's really all on me if I work too much or become overwhelmed.
Now, what can be draining is what you do after work is over. Let's say you want to keep partying with the rest of the club goers and your nights bleed into your days which can lead to a vicious cycle. I've been there but I don't like that kind of life because I love being awake during the day and seeing the sunshine!
How important is social media to your career?
I think it is SO important for any type of performer to have a good social media presence. I will admit mine slacks on the dancing side.
I had someone hire me after finding me on Instagram and after I performed, the owner of the venue was in such shock with how well I did due to the fact I don't promote my burlesque well enough on Instagram and she didn't know what to expect. They started booking me every weekend after that.
If you're like me and don't want to spam your feed with dance things I created a highlight for just burlesque on my feed that anyone can click through. I also have my official dance reel and videos from big shows I've performed in on my page as well.
Read "10 tips for dancers wanting to build a better social media presence" here!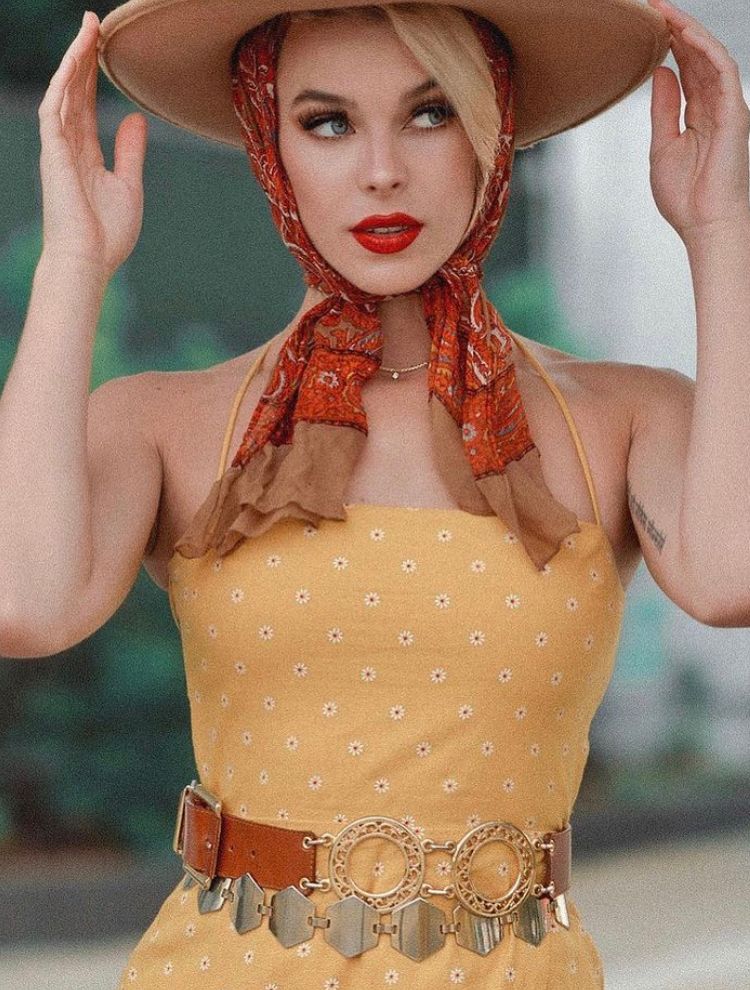 Let's talk about money and job stability
I don't think any performance freelance job can be considered "stable". I work for multiple companies at numerous venues around LA. I am grateful that pre-Covid they were hiring me regularly and were very flexible with my schedule when I had other gigs to work around (commercials, events, etc.)
Most nightlife companies will offer you a flat rate of $150-$200 for 4 hours. Some places I set my own rate which is ideal but rare. As I mentioned before I was working 4 nights a week at multiple venues a night, so at that time I did not need a side job, but I have definitely had one before.
(Read "Why it's a good idea to have a side hustle" here!)
When I first started nightlife, I was working three jobs. I tried that for a short time before cutting it down to two and then finally when I felt I could support myself with just my night job I made the shift. However, I could never predict what my income for the month was going to be. Sometimes it could reach $5,000, other times I could just barely pay my rent. I highly suggest being good with your finances and knowing when to save and when to spend.
(Read "Ever wondered how much professional dancers make?" here)
(Read "24 EASY ways to save money as a dancer here! )
Something people COMPLETELY misunderstand about what you do?
We aren't out raging all the time, but I can only really speak for myself and my close friends in the industry.
I know my career looks glamorous and I'm working the coolest parties but 95% of the time I show up in yoga pants, will MAYBE have a glass of champagne, do my set and go home.
I think from the outside looking in it can appear quite scandalous with tiny costumes, beautiful people, at extravagant parties.
People find us intimidating or untrustworthy because it's our job to seduce an audience. Half the time the audience thinks we're out to steal their partners away, and keep a close eye to make sure their stares don't linger. But it's just not like that.
Finish this sentence: A burlesque dance career is for you if….
… you feel confident enough in your own skin to show it off on stage. Burlesque is all about embracing yourself and your body. Do not let the thought of "Oh I'm not a trained dancer" scare you away from burlesque because a lot of performers aren't.
I think it helps to have some training and understanding of your body and the shapes you can create with it; but if you love to perform and have an act or stage presence that makes you stand out then give it a try!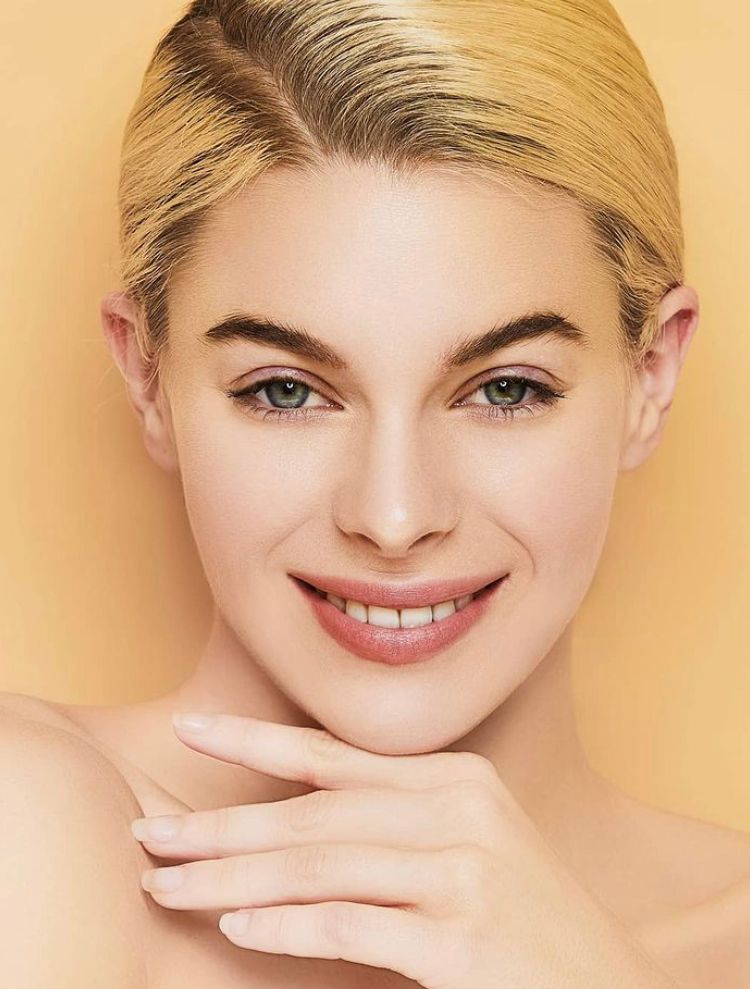 A burlesque dance career is NOT for you if…
… you don't want to invest in your career. Burlesque is an EXPENSIVE career. The costumes, shoes, RHINESTONES, dresses, props. You will need to spend money to make money.
Read "16 things I wish I knew about Freelance before I started" here!
Your best advice on embracing your sexuality & femininity?
In one of my first burlesque classes I attended, I remember my teacher turned on a sexy song and just had us stare at ourselves in the mirror. Don't be afraid to look at who you are or look at the body you have been given. There is no such thing as the "right body" because everybody is different and perfect.
I started taking classes when I was 18, and burlesque really helped me find myself and taught me to love myself all while harnessing my sexuality. Our bodies are such a powerful gift and I wish more women knew this.
Sometimes when I'm on stage I feel so confident and in control—like I could take on the world and I try to take that energy with me even when I walk off the stage.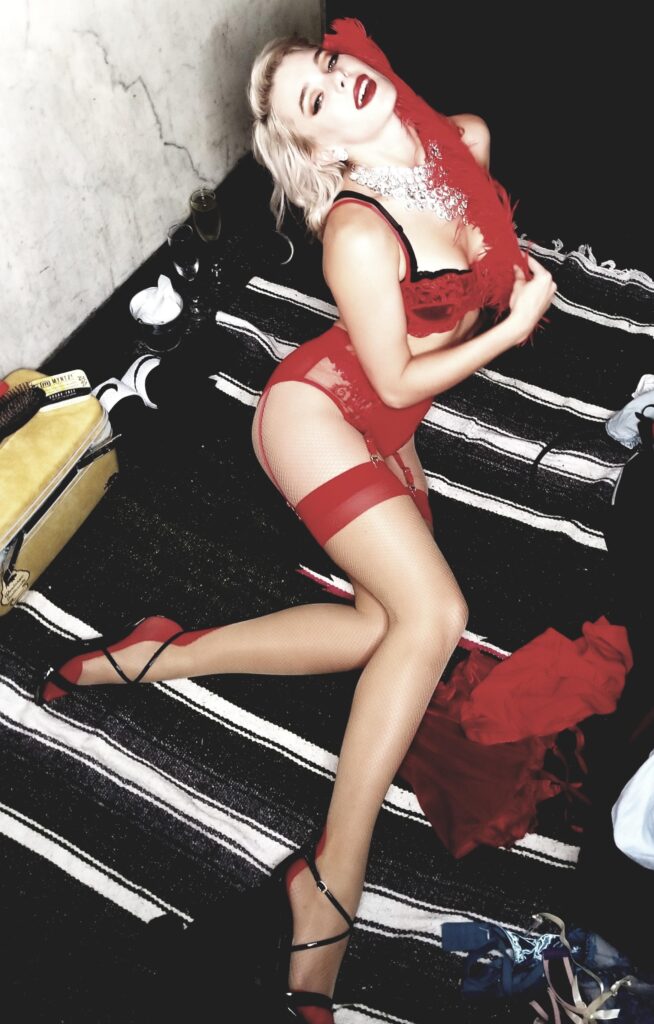 Can you provide any helpful sources for dancers wanting to learn more?
Sure! Okay I'll share some things that inspired me and a few things I've discovered along the way. Side note* it's great to use these things as inspiration but always make things fit into who you want to be as a performer.
MOVIE TO WATCH:
Watch the movie with Christina Aguilera and Cher! Which I came to find out was hugely based on CABERET featuring Liza Minnelli and directed and choreographed by Bob Fosse.
CLASSES TO TAKE:
I took burlesque classes with Hells Belles Burlesque when I was first learning.
BOOKS TO READ:
Goddess of Love Incarnate: the life of Stripteuse Lili St. Cyr, Leslie Zemeckis
Feuding Fan Dancers: Faith Bacon, Sally Rand, and the Golden Age of the Showgirl, Leslie Zemeckis
SHOW TO EXPERIENCE:
The Toledo Show @ Harvelle's SM and Petite Ermitage. A dark, femme-fatale cabaret with Toledo as the singer and the dancers and musicians playing off his every word.
Bigger burlesque productions such as 'Tease! if you please' and 'Tarantina'.
A list of shows I've performed in that you should have a night out at and see:
COSTUME INSPO:
For costume inspiration and enough rhinestones to blind you check out these costume queeeeens:
Okay, where can we follow your journey? Hit us with some shameless self promotion!
I mostly stick to Instagram (@thatskylargirl) !
Follow my personal page and feel free to ask me any questions! Hope you all enjoyed this as much as I did!
(Want to read about other dance careers? Read about cruise ships here!)