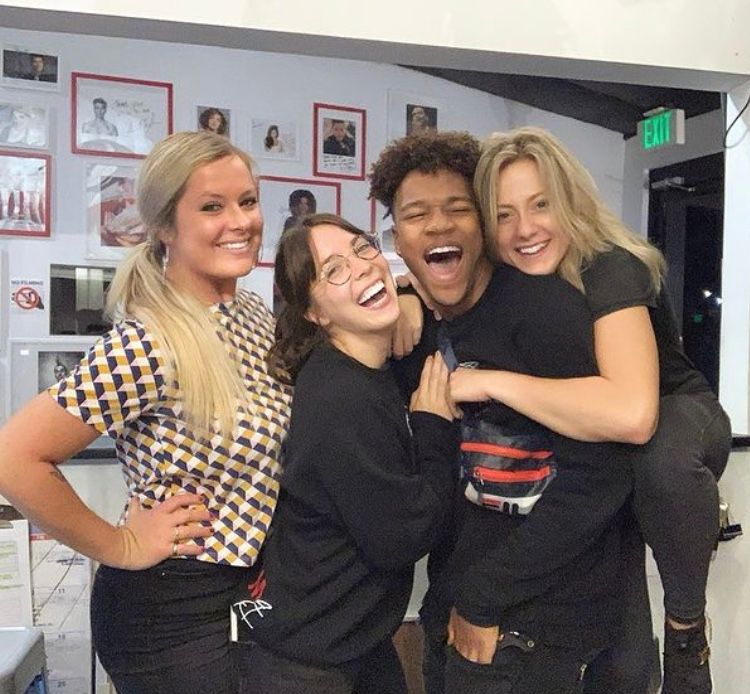 What it's like to be a work study at Millennium Dance Complex, LA
Growing up I would spend hours and hours watching YouTube videos of my dance-superheros training and rehearsing in front of the iconic red walls at Millennium Dance Complex in Los Angeles.
I remember the overwhelming emotions of joy when I first visited LA in 2015, and found out how sacred these studios are to dancers.
A lot of things happened after that, and in early 2019 I started working as a work study at Millennium Dance Complex. It's my home in so many ways.
What is Millennium Dance Complex?
A dance studio on Ventura Boulevard – but don't underestimate it as being "just a dance studio". It's such a massive business – and especially in the summer, where literally every single class sells out it gets pretty crazy.
There are two main studios for classes, one can have 111 students at once, while the smaller can have 75 students in class.
For studio rentals, there are 4 different-sized studios in the building, that are being rented out for rehearsals.
Millennium has been a franchise since 2011, so there are Millenniums all over the world. In Toronto, Beijing, Germany, Tokyo, Shanghai, Brazil and in different locations in the U.S. But the "O.G"-one is in Los Angeles.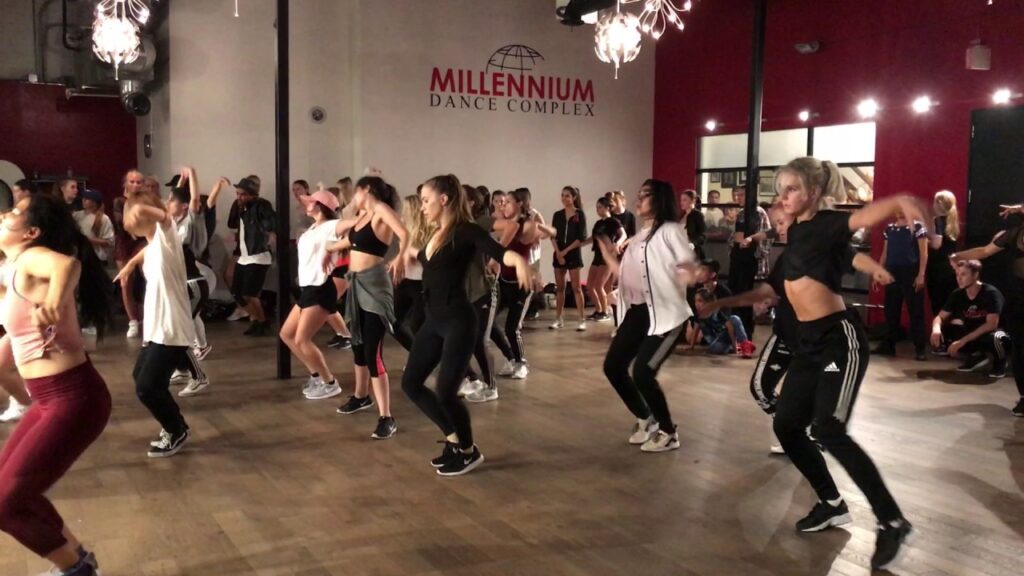 My favorite part about working at Millennium Dance Complex
… is without doubt when dancers from all over the world step into the studio for the very first time. Slightly intimidated, very overwhelmed, excited and blown away by the photos on the walls of legends who've rehearsed in the studios like Michael Jackson, Britney Spears, Beyoncé, Justin Timberlake – and Bieber – just to name a few.
Some of the dancers literally cry. While you might shake your head and claim they're slightly dramatic and "it's just a dance studio", their excitement throws me straight back into an all consuming feeling of gratefulness for just simply being here.
Showing them around the studios, explaining how we take classes – things that are so simple and not a big deal LA dancers – is my favorite part. I only speak English, Danish and German, so very often I'm not even able to speak the same language as them, but hey-ho – body language and a smile goes a long way.
What's the job like?
At Millennium Dance Complex you work one shift a week, either from 9AM-4PM or from 4PM until 11PM. There will always be a manager, one "register" and two "runners".
The manager: works in the studio office, handles e-mails, the students on the certificate program, and is makes sure that the whole building is not burning down, basically. I'm kidding, but you know, a manager makes sure everything is running properly, and the one you tap on the shoulder if there are any bigger issues.
The register: Stays behind the front desk at all time, and handles all the money + studio rentals.
The runner: Like the name indicates, they are "running around" doing a lot of practical stuff that I will explain right here: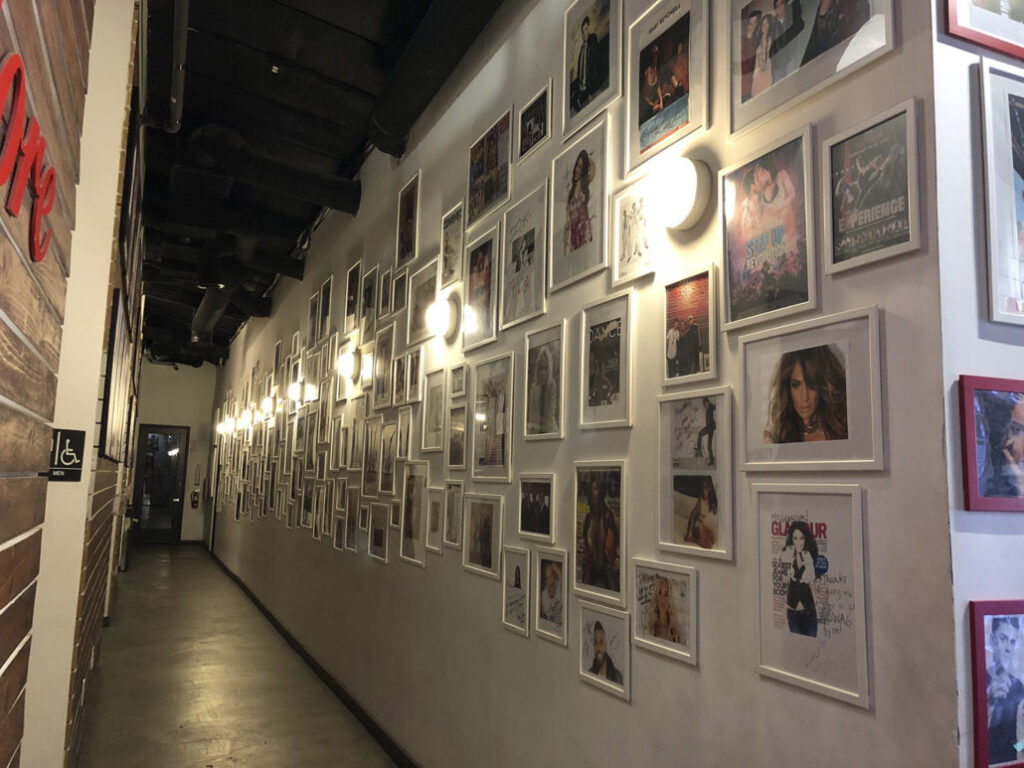 Tasks as a work study
Making sure all dancers sign in – and pays – for class. This all happens at the front desk
Counting classes : When a class starts, you go into the studio, and try to count the 111 moving dancers, to check that the counts are right. If the counts are off and someone didn't sign in properly or didn't pay for class – which happens quite often – we go in, stop the class and announce once or twice that whoever didn't sign in or pay needs to come out. And yes, that's really awkward.
Roll Calls: If noone comes out to pay or sign in, we have to stop the entire class and do a "roll call". Everyone goes to one side of the room, and you read the names on the class list one by one. Dancers who hear their names being called, can walk to the other side of the room. By the end, you'll find out who didn't pay. It takes time out of the class and it s*cks for everyone, but hey, it's necessary.
The signs: It's so important that classes start and stop on time, so 10 and 5 minutes before a class is over, we walk into the back of the class with a massive physical cardboard sign over our heads.
Is that really necessary? Absolutely. You know, when you're really passionate and "in the zone", and time just flies? Same applies to these classes. I swear, if we don't give the signs and put a little bit of pressure on the classes, some classes would go on for weeks.
The teachers/choreographers: All teachers can bring up to 5 guests to a class for free, so we make sure to write these dancers down on a list, give the teachers water, make sure to let them know if we're behind schedule so they have 5 minutes extra for instance, help with the speakers if necessary etc.
Cleaning bathrooms: I don't think you need a break down on this one.
Taking out trash: Not this one either.
Open/close the studio: Turning on speakers, lights, aircondition, putting out the don't-f-park-here signs where they belong so the dancing Angels of this city don't get towed – aaaall that good stuff.
Selling merch: You can't visit a dance studio without getting some merch to flash once you get home! The amount of hoodies, hats, t-shirts, towels, pants, body suits that are being sold is mind blowing. We just L-O-V-E merch, don't we! I bought my Millennium Dance Complex hoodie in 2015, and I've been wearing it ever since.
Taking rentals: You do NOT want to mess this part up. Picture two choreographers showing up for an important rehearsal in a studio you overbooked. No ma'am. We are constantly on the phone taking calls and putting the rentals into the calendar.
Regular phone calls: I dare you to think of a question that hasn't already been asked. "Can I talk to Justin Bieber" to "do you have to audition to take class" to "my daughter want to teach at your studio tonight" – I swear, you can't ask a stupid question anymore.
Make the schedule: There is a set, weekly schedule at the studio, with regular teachers who all have a slot or two. But since all choreographers and teachers have their own careers outside of teaching (that's why we want to learn from them, right!), we have to find substitute teachers basically every single time we work.
Our job is to text the teachers that are teaching the following day, and ask if we can confirm them for tomorrow. If they're unavailable, we have to find a sub. If it's a hiphop teacher it's our job to find a hiphop teacher in our "LA teacher book" who offers kinda the same style and vibe as the teacher they're subbing for.
Sometimes you can text like… 15 teachers until you find someone who isn't on a job somewhere.
Outside of the regular schedule, we have masterclasses once or twice a week. Masterclasses are taught by choreographers and teachers who don't usually teach, so I guess it's more "exclusive" in a way. That would be people like Yanis Marshall, Tricia Miranda, Kyle Hanagami or Brian Friedman.
These classes usually sell out, and our job is to sign everyone in, give them a stamp, line them up – in the summer that happens outside of the studio in the parking lot since it gets wayyyyy to crowded indoor.
… and lots of smaller tasks, but that's pretty much what happens at your shift!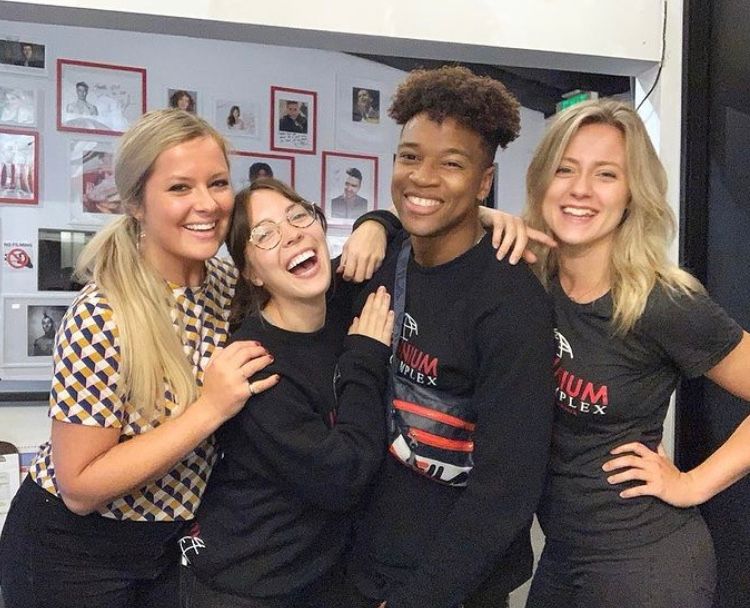 What you gain from being a work study
You get unlimited classes (minus masterclasses), so you don't have to worry about if you can afford training, since Millennium Dance Complex covers it.
You get to meet and connect with SO many dancers, teachers and choreographers on a daily basis, which is really awesome and fun!
You get to be a bit more "behind the scenes" in the dance industry. You're getting so much insight in how dance studios run things, which has been such an eye opener.
Friends to train with. The workstudies train all the time, so you always have people to stand next to in class, which makes it more fun.
A family. This one is so real. It's so fun working at these dance studios with likeminded people, who are all out here to pursue a dream. I love being a part of the Millennium Dance Complex family, and I KNOW that work studies at other studios like Movement Lifestyle are incredible thankful for that opportunity too!
Why being a work study is good for foreigners in particular
I remember my first interview with the Director Jin Lee, who asked me how I felt about cleaning toilets etc. and I looked at her and said:
"If I don't have this job, I can't live in LA. I am on an O1-b artist visa that allows me to dance and ONLY dance, so I can't have regular side jobs like other American dancers. This job would be illegal for me if you paid me with money, but since I am getting paid with free training, it all works out. I am absolutely not able to afford rent and training, so if I don't have this job, I have to move back to Europe. So no, cleaning the bathroom is absolutely not a problem".
And then she hired me.
If you're on an O1-B artist visa (the most common visa for dancers, you can read about it here!), you can't work at Starbucks or for Uber on the side. Being a work study is such a good way to afford your training!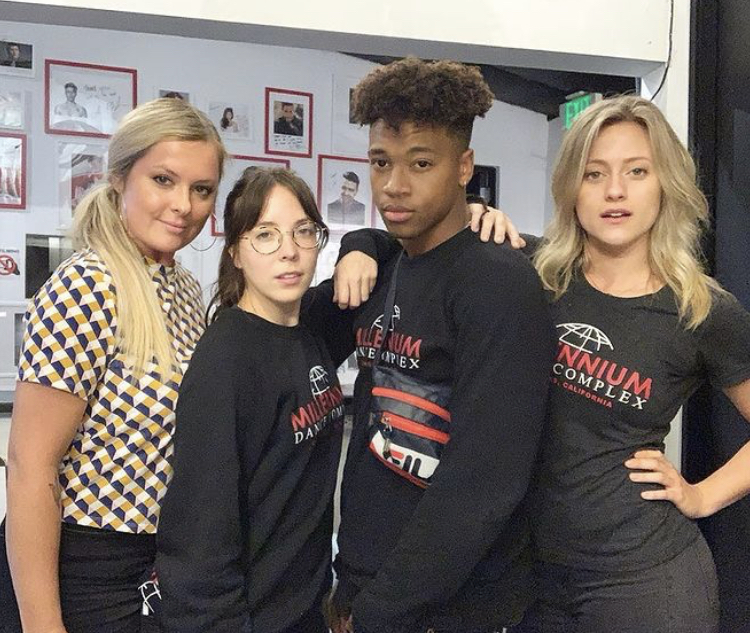 What does the job require?
First and formost, you only want to be a work study if you're passionate about training, since your payment is free classes and not money. Other than that you just HAVE to be efficient and able to work under pressure, while being friendly and loving towards people. You want people to feel welcomed and home. It's a dance studio, not an airport.
It gets stressful sometimes when you have 111 people you need to let out of one studio, 75 people you also need to let out, while 111 people are waiting to get into the studio and 75 other people are waiting to get into the other. It's stressful when you're behind schedule, people are trying to sign in, the phone is constantly ringing, a car can't get out of the parking lot, someone hurt themselves and there's no more toilet paper in the bathroom.
It's so fun working there, but you have to be a fast thinker and a problem solver for it to be very fun.
How do you become a workstudy at Millennium Dance Complex?
Referral is always the best way to get in! I'd say, take lots of classes at the studio since they choose people who are serious about their training. But just ask at the front desk if they're looking for new work studies at the moment. It's all about timing, since they're only looking for new workstudies when someone quit working there. My friend who worked behind the front desk mentioned me to the director, and they asked me to fill out an application form.
You can read about the workstudy program and apply here!
If you liked this post and want more dance-insight, tips & tricks straight to your inbox for free, sign up to the news letter below! It's once a week, and you can always unsubscribe again!
xoxo
Otherwise come say hi on Instagram: (@mathilde.veje) , join the Facebook Group or subscribe to my YouTube channel here! If