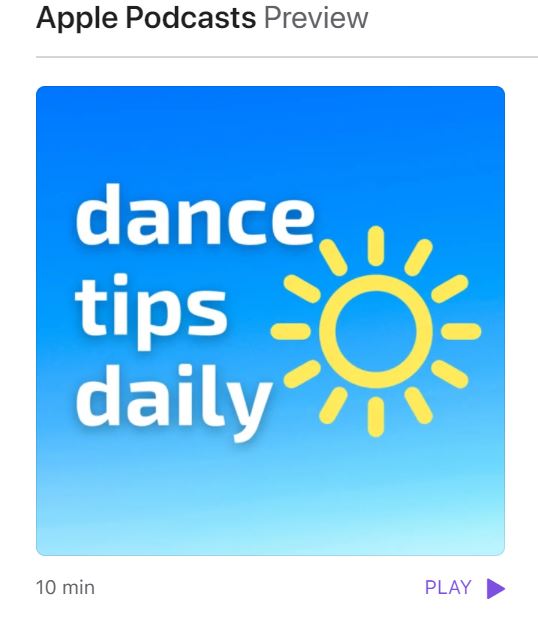 Love Notes To LA Featured on Dance Tips Daily Podcast
Dance Tips Daily – I don't know about you, but I rarely make time to sit down and read a lot these days. That's why I always listen to podcasts. I listen to them when I drink my morning coffee, on my walks in the neighborhood, during my workouts, when I'm on the train late at night, when I shower… you get the point.
I think you can call it a healthy addiction.
Therefore I was super excited when Daniella Albertina (IG @daniellealbertina) reached out to ask if she could feature Love Notes To LA on her Dance Podcast ( IG: @dancetipsdaily ) – how cool!
What is "Dance Tips Daily "?
Daniella says it best:
"Reading to you the best dance content on technique, athletic mindset, physical health, choreography, education, nutrition and more, DTD in helps you become a more well rounded and grounded creative little by little each day.
Bonus episodes release the first of every month featuring dancers and industry professionals sharing tips on how they've creatively navigated their way throughout the field."
Check out her webpage right here!
Dance Tips Daily – Short and sweet!
All the episodes are somewhere between 8 and 11 minutes long which is very convinient to anyone who is impatient (like myself), who don't love smalltalk, but just want to jump straight into the advice, tips and tricks on anything dance.
(Read 10 tips for dancers wanting to build a better social media presence here!)
Our episode: " #461 How To Get Signed To Dance Agencies In Los Angeles"
I'm always super thankful when I hear from you guys, whether it's an e-mail, DM or blog comment about your thoughts and/or questions on anything you read on this little blog – that's why I started Love Notes To LA in the first place.
Therefore, it was a big pleasure to be able to branch out and share with Daniellas audience too.
You can give it a listen wherever you usually find your podcasts! I use Spotify, but you can use Apple Music, the Podcast app etc. as well!
(Maybe you'll also like: "Freelancing – 16 things I wish I knew before I started here ! )
Link to the episode
Have a great day!
xo from rainy Los Angeles
Matilda (IG: @mathilde.veje )